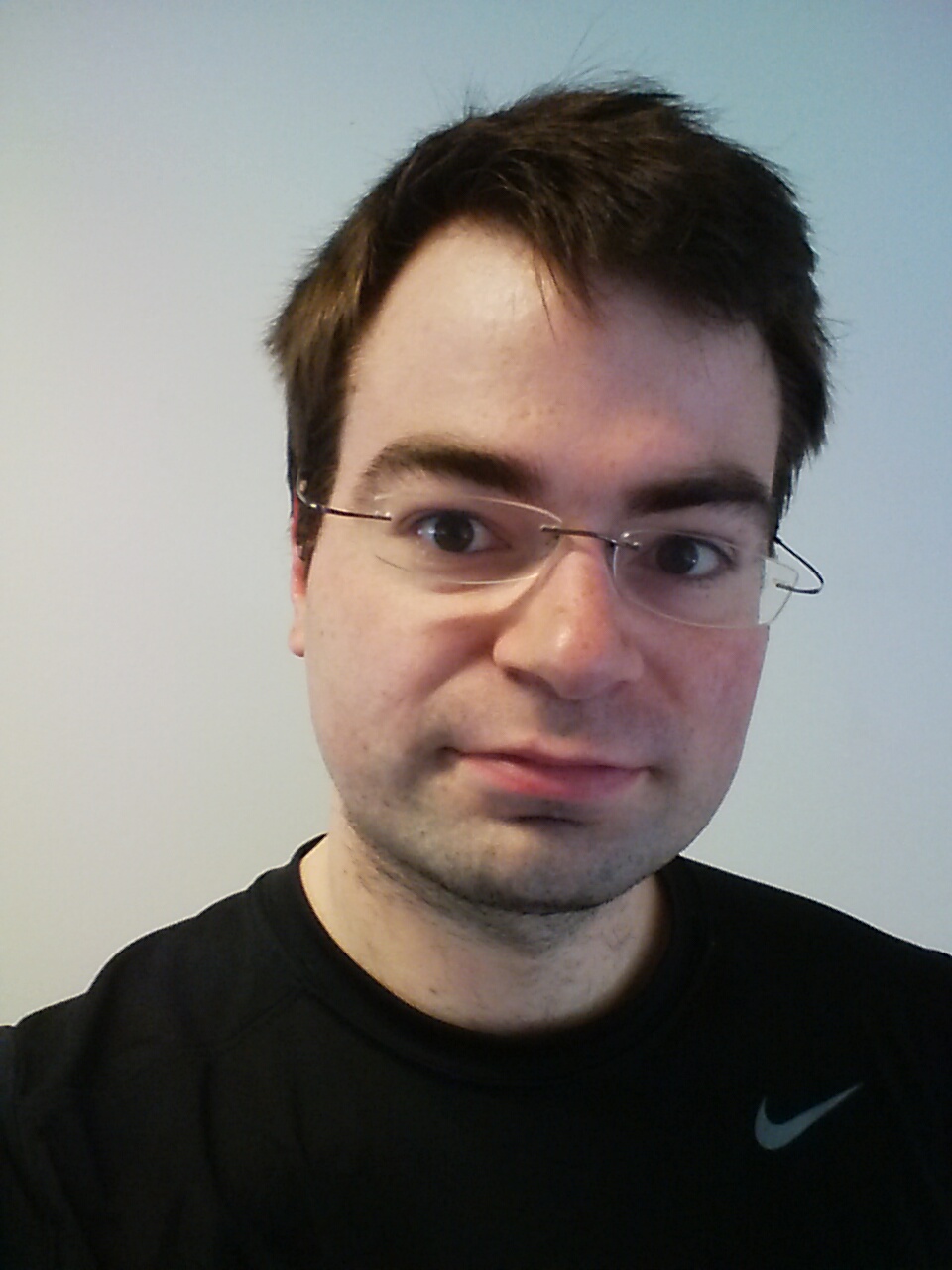 Nicolai Kraus
University of Nottingham
I am a Royal Society University Research Fellow and Associate Professor at the University of Nottingham, in the Functional Programming Lab. I was previously a member of the Birmingham Theory Group and at Eötvös Loránd University. My interests include (homotopy) type theory, (higher) categories, constructive mathematics in general, and the vast area of related topics.
Feel free to contact me: firstname.lastname@nottingham.ac.uk.
Quick links: People; Papers; Workshop Contributions; Talks; Teaching; Notes; Funding Acknowledgement;
and a list of bibtex entries for my papers [html].
People
Joshua Chen started his PhD with me in October 2020.
I am second supervisor of Brandon Hewer, who started his PhD with Graham Hutton in October 2019.
Papers
Peer-Reviewed Workshop Contributions
Some of My Talks
Below are slides, abstract, or descriptions of some of my talks. Many of my talks are board-based.
<!–– This list is extremely incomplete. At some point, I could add some of the missing talks such as higher cats in tt (Budapest), ordinals in Nottingham (Oct'19), multiple earlier ones; the talks in Birmingham (one in 2018, one 2019, the 2020 one is added below); what else? -->
Two-Level Type Theory (2LTT) - What is it, what can it do, and does Agda need it? [annotated slides]
Internal ∞-Categories with Families
Induction for Cycles [slides]
Coherence via Wellfoundedness [conference abstract]

FAUM (Foundations and Applications of Univalent Mathematics), Herrsching, 18 December 2019.

Internal higher-categorical models of dependent type theory [abstract]

Lab Lunch, Birmingham, 24 October 2019.

Constructive Ordinals

FP Lunch, Nottingham, 18 October 2019.

Higher Type Theory [repository]

Budapest Type Theory Seminar, 9 September 2019.

Homotopical ideas in type theory [conference website and abstract]

Types in Munich, Munich, 7 June 2019.

Deep and shallow embedding of groups [greenboard pictures]

Budapest Type Theory Seminar, 13 May 2019.

Some connections between open problems [slides][video]
Towards the Syntax and Semantics of Higher Dimensional Type Theory [slides]

At HoTT/UF'18, Oxford, 8 July 2018.
(I have given this talk for Thorsten Altenkirch, who was unable to attend.)

The Challenge of Free Groups, or: Are certain types inhabitable in some but not all versions of HoTT? [video]
An Introduction to 2LTT

Chalmers Prolog Meeting, Gothenburg Cambridge Category Theory Seminar, May 2018,

Towards infinity-categories in type theory

Chalmers Prolog Meeting, Gothenburg Cambridge Category Theory Seminar, May 2018,

Univalent Higher Categories via Complete Semi-Segal Types [slides][video]

At POPL'18 in Los Angeles, 10 January 2018.

Two-Level Type Theory [abstract]

Cambridge Category Theory Seminar, 7 November 2017, organised by Tamara von Glehn.

Higher Categorical Structures, Type-Theoretically [slides][abstract]

Cambridge Logic and Semantics Seminar, 12 May 2017, organised by Dominic Mulligan.
Caveat: This talk was mostly whiteboard-based, and I covered only a tiny part of the contents on the slides.

Partiality, Revisited: The Partiality Monad as a Quotient Inductive-Inductive Type [slides]
Truncation Levels in Homotopy Type Theory - Ackermann Award Talk [slides]
Higher Categorical Structures and Homotopy Coherent Diagrams
Non-Recursive Higher Inductive Types [slides]
Higher Inductive Types without Recursive Higher Constructors [slides]
Functions out of Higher Truncations [slides]

Talk at CSL'15 in Berlin, 8 September 2015.
(The content of this talk is different from that of the talk below, although the titles are very similar.)

Eliminating out of Truncations [slides]
Omega Constancy and Truncations [slides]
Generalizations of Hedberg's Theorem [slides]

My talk at TLCA in Eindhoven, June 2013.
I have given a similar talk with the same title at the FP Away Day in Buxton, June 2013 (the original slides are on the event homepage).

Universe n is not an n-Type
Homotopy Type Theory and Hedberg's Theorem [slides]

Talk for my visit in Birmingham, November 2012. Based on joint work with T. Altenkirch, T. Coquand, M. Escardo. Abstract.

On Hedberg's theorem: Proving and Painting [slides]

My talk for the FP Away Day 2012 in Hathersage.
An attempt to provide some more intuition for HoTT, together with Hedberg's theorem as an application.

Equality in the Dependently Typed Lambda Calculus: An Introduction to Homotopy Type Theory [slides]
Homotopy Type Theory [slides]

Talk for the FP Away Day 2011 in Buxton - just a presentation of very basic ideas and intuition.
Teaching
Random Notes and Reports
Funding Acknowledgement
I am generously supported by